We're still in the midst of the holiday spirit, but many people are already looking ahead to the new year. Not only is 2020 the start of a new year, but also a new decade—and what better time to truly focus on your health? Setting goals to improve your wellness in 2020 is a great idea. But one mistake that people often make when writing down New Year's resolutions regarding health is focusing too much on things to stop or avoid doing (i.e., stop eating dessert, stop eating out for lunch every day) rather than taking the more positive approach of adding healthful actions to their life. Switching your mindset, however, can actually make you more likely to succeed.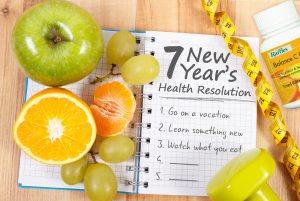 "When I'm getting my clients to set goals, we focus on the things they're excited to add in, rather than behaviors or habits they want to remove," says Ashley Kitchens, MPH, RD, LDN, a registered dietitian nutritionist based in Durham, N.C. "It's a much more positive outlook, and because of that, their adherence to their goals and healthy habits they want to create is much higher."
Taking a negative approach can also backfire, Kitchens says. For example, if you vow to cut out sugar, guess what—all you're going to crave is sugar. Making extreme, all-or-nothing resolutions won't set you up for success, and there are incremental ways to become healthier without restriction or deprivation.
The key with resolutions is to get clear on your intentions, then break down bigger goals into very small, manageable ones, says Kitchens. For example, say you want to lose 10 pounds: How can you break that down into micro goals so that it becomes a very attainable, rather than daunting, resolution? Here are 15 ideas to add to your life in 2020 that will help you feel excited and empowered, rather than deprived.
Add more water. You hear it all the time that it's healthful to increase your water intake, yet most people still don't drink enough. Kitchens says to set a goal of 64 ounces a day. "Then once that's done and sustainable, add on to that," she says.
Add more movement. Exercise isn't about beating yourself up for what you've eaten; it should be about developing a positive relationship with your body and how it feels after physical activity. Start small here: For example, Kitchens has a client who set a goal to walk outside twice a week. After a month, she'll increase to three times a week.
Add more whole foods. Instead of focusing on more processed foods that you want to eat less of in 2020, hone in on adding more whole foods—fruits, vegetables, grains—to each meal and snack, says Kitchens. If you'd like to focus on eating more plants and plant-based foods, this is a positive way to start. Say you're already eating a protein, a veggie and a starch for dinner. Try doubling that veggie to squeeze in more plants.
Add more fun. Say you want to swap out your breakfast cereal for oatmeal instead. That's great, but remember that eating healthy doesn't have to be boring, says Kitchens. Rather than having plain oatmeal, add in fun toppings like fresh or frozen fruit, seeds or nut butter to help it fee more satiating and satisfying.
Add more fiber. More than 90 percent of Americans fall short of recommended fiber goals of 25 to 38 grams per day, says Lauren Harris-Pincus, MS, RDN. Aim to hit 25 grams by consuming more fruits, vegetables, whole grains and beans (here are some more ideas for getting more fiber in your diet, too).
Add fermented foods. If you're not already consuming fermented foods like sauerkraut, kimchi and kombucha, try incorporating them into your daily intake in the new year. They are not only delicious (read: easy to add!) but go a long way in nourishing your digestive system with healthy bacteria, says Heidi Moretti, MS, RD.
Add one high-protein snack per day. Try having a cup of low-sugar or plain Greek yogurt, swiss cheese slices, turkey jerky or low-fat cottage cheese in the afternoons to help stave off carb carvings, advises Laura Cason, RD, LDN, CDE, media representative for Illinois Academy of Nutrition and Dietetics.
Add positive media. We have many choices these days on what media we consume, from television shows to Netflix, Hulu, radio, Spotify, YouTube and so much more, and they can all influence our choices surrounding our own health. Try adding in a motivational podcast to your morning or nighttime routine, says Jana Mowrer, RDN, MPH, CDE, LD.
Add movement at work. More and more people have sedentary jobs, which means our movement during the day is likely low. To increase your movement during your workday, try incorporating things like a stretch every hour, a standing break at your desk, taking the stairs or asking a co-worker to go walking during lunch (even if it's only 10 minutes, it adds up!), says Mowrer.
Add boundaries. Restricting access to who and what has access to your energy can be a gamechanger for improving your overall health and wellness, Mowrer says. For example, keeping your phone in another room in the evenings can minimize distractions from phone calls, texts and notifications, helping you to feel more relaxed and get a better night's sleep.
Add more home-cooked meals. These don't have to be fancy; you can even try preparing simple things such as breakfast for dinner. Cooking provides better control over what's in your dishes so you can choose more fresh and less processed ingredients, says Jennifer Glockner, RDN, of Smartee Plate. If you have kids, involve them too (with age-appropriate supervised tasks). "They will be more apt to eat foods they helped prepare and will learn important skills," adds Glockner.
Add more family meals. Eating with the entire family is a good opportunity to model healthy eating to kids, practice mindful eating and turn off distractions (phones, TV, etc.), says Glockner. Aim to do this at least one or two times a week (minimum), for any meal of the day. Studies show that family meals may even decrease overweight and obesity in kids, adds Glockner.
Add more good fats. Intstead of trying to eat less fat, focus on adding in better fats. Foods like salmon, nuts, seeds, avocados and olive oil provide heart-healthy fats that can help improve cholesterol levels and fight inflammation, says Diana Gariglio-Clelland, a registered dietitian with Balance One Supplements.
Add more gratitude toward yourself. Each day, thank your body for one thing that it does well, like your legs for allowing you to walk, or your eyes for being able to see, says Garigli-Clelland. It can help you to put your goals in perspective and focus on health for health's sake, rather than aesthetics. "So many people have resolutions to lose weight or fit into a certain size jeans," she says, "but in reality, we'll be happier in general if we're more appreciative of our bodies where they are right now."
Add more celebration. Taking note of even the smallest victories on your journey helps you stay motivated to keep going. "You're not striving for perfection, just looking to make progress," says Kitchens.