Change your undesired behaviour, accomplish a goal and improve your quality of life!
Do you have a New Year's resolution to change an undesired trait or behaviour; to accomplish a personal goal or improve your quality of life in some way or another?
If so, you've come to the right place.
I've never quite understood why they're at the forefront of our mind at the end of the year and start of a new year, but then get forgotten and lose their power as the year goes on.
That's why I'm calling it a Health Resolution instead, which can be performed at any time of the year and by anyone.  Whether you're going through amid-life crisis, getting your health back on track after having kids or getting older and feel that you could be ageing better than you are.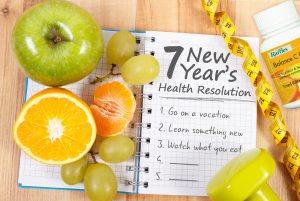 Some examples of health resolutions:
Lose weight and improve your metabolic age
Exercise more, to tone your body, feel stronger and improve flexibility
Quit smoking to reduce your risk of cancer significantly
Drink less alcohol or cut it out of your diet for good
Reduce stress and tension so you can feel calm and be happy
Consume less sugar and refined carbohydrates
Drink more water to hydrate and reduce the ageing process
To eat healthily and increase your fruit and vegetable intake
Getting to bed earlier, to promote better sleep
Improving your immunity to stop getting sick all the time
Age healthily to boost longevity and improve your quality of life.
Are you overweight or carrying a few extra kilos?
Are you ashamed of yourself when you look in the mirror?  You're not alone; nearly two-thirds of Australians and New Zealanders are overweight!
According to the World Health Organisation, the health consequences of obesity include "serious chronic health conditions that reduce the overall quality of life". Whether it be heart disease, diabetes or musculoskeletal ailments, it's time to do something about it.
How do you choose the right weight loss program?
With so many weight loss products and systems in the marketplace, it can be difficult to know the best way to go about it. You want an easy to follow, scientifically advanced weight loss program that's been proven to be both safe and effective.
Another important factor is that the weight loss program can be tailored to suit you, for best results and to improve your long-term health and wellbeing.  Of course, you also want the products to be low in sugar, superior quality, high in nutrients, hypoallergenic and well absorbed.
There are so many different factors that can be contributing to excess weight, so advice and support for a qualified healthcare practitioner who specialises in diet, nutrition, hormone balancing, lifestyle management and exercise is a sure fire way to guarantee results! Not only now, but for the rest of your life!
How do you make sure you don't regain the weight?
Losing weight can be challenging and 80% of lost weight is usually regained within 5 years!  Research has shown that people who are overweight or obese have a higher body weight set-point than lean people.  Like a thermostat heating or cooling your room, it's your bodies internal physiological thermostat to keep your weight at a certain point.
As you lose weight, your appetite increases and your energy expenditure decreases, making us eat more, burn less and gain the weight back again.
Diet 'breaks' have been scientifically shown to help you go the distance and to trick your body into thinking your new lower weight is your set-point, helping you to maintain lost weight more easily.
What if you don't want to lose weight, but want to be healthier?
There are some other programs that might be more suited to you, so you can achieve your health goals.  Please enquire today.  I'd love nothing more than to help you achieve everything you've been wishing for and to support you to live longer and slow down the ageing process, so you can have more fun with your kids, pets, friends or family.
Take action and promote change to be the best you can be – TODAY!